Become a member of Humboldt Redwoods Interpretive Association
---
You can help support the work of the Humboldt Redwoods Interpretive Association (HRIA) by becoming a member. Funds raised through memberships, endowments and donations enable us to develop displays, purchase equipment, sponsor research, publish interpretive literature and also to fund the expansion of the Humboldt Redwoods State Park Visitor Center and its quality interpretive exhibits.
A critical element in the success of the Association is its membership and endowment program. Individuals and families throughout the country have long supported the Association through their dues or contributions.
---
Benefits to Members:
A 20 percent discount on all books, maps, posters, calendars and publications stocked for sale by the Association.

Our Association Journal: "The Living Museum"

The satisfaction of knowing that you are participating in an organization dedicated to expanding awareness of one of the most unique forests left on earth.
---
Special membership gifts:
Individual members

Receive an HRIA logo patch suitable for hats or coats.

Supporting members

Receive the patch and a poster of Larry Eifert's mural of Humboldt Redwoods State Park featuring a complex collage of life in an ancient redwood forest.

Life members

Receive the patch, the full color poster, plus a Humboldt Redwoods Trail Guide.

---
Membership Categoriess
Student/Senior - $5.00

Individual - $15.00

Supporting - $25.00

Life - $100.00

Corporate/Benefactor - $200.00

Patron - $500.00

Endowment - $1000.00

President's Circle - $2500.00

(All amounts are in U. S. dollars)
---
Humboldt Redwoods Interpretive Association Board of Directors
President - Aletha Powers
Vice-President - Cyndy Goodson
Secretary - Kathy Huntress
Treasurer - Robin Childs
Trails Committee - Robert Goodson
Elaine Woods
Carl Anderson
Susan J. P. O'Hara
Fran Clever
Cooperative Association Liason - James Baird
Manager - Dave Stockton
Interpretive Coordinator - Denise Del Secco
Sales Clerk (Ferndale) - Sharon Green
Special Committees:
Kim Cabrera - Web Page Designer
Ron Jones - Auto Tour
---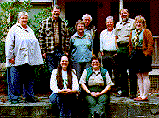 ---
Humboldt Redwoods Interpretive Association
P. O. Box 276
Weott, CA 95571 USA
Phone: (707) 946-2263
Fax: (707) 946-2618
---
If you are interested in membership or have questions, you may send e-mail to: hrsp@northcoast.com
Checks may be made payable to HRIA. We also accept Discover, Mastercard and Visa.
Back to Humboldt Redwoods State Park Home Page.
---
http://www.northcoast.com/~hrsp/members.html
Revised: 12 November 1997
Copyright © 1996 Humboldt Redwoods Interpretive Association
hrsp@northcoast.com
---